03 Aug
Hundreds of businesses including eBay and Nestle back federal rules to cut emissions and encourage a switch away from coal to renewable energy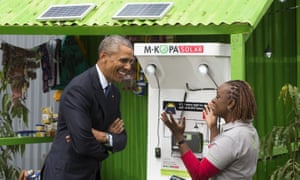 US President Barack Obama at a solar power kiosk at the Power Africa Innovation Fair in Nairobi, Kenya, during his visit last week. Photograph: Saul Loeb/AFP/Getty Images
Hundreds of businesses including eBay, Nestle and General Mills have issued their support for Barack Obama's clean power plan, billed as the strongest action ever on climate change by a US president.
The rules, announced on Monday, are designed to cut emissions from power plants and have been strengthened in terms of the long-term ambition as originally proposed by the president last year, but slightly weakened in the short-term in a concession to states reliant on highly-polluting coal.
White House adviser Brian Deese said the Environmental Protection Agency (EPA) rules represented the "biggest step that any single president has made to curb the carbon pollution that is fuelling climate change". The US is the world's second biggest carbon emitter after China.
Barack Obama announces his US clean power plan
Republican presidential candidate said the debate was a device used by liberals to appease 'environmentalist billionaires and their campaign donations'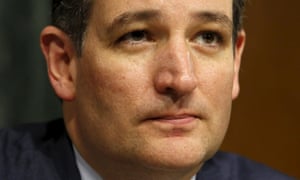 Republican presidential candidate Ted Cruz compared global warming believers to 'flat-Earthers'. Photograph: Yuri Gripas/Reuters
Republican presidential candidate Ted Cruz has stated that he doesn't believe in the science behind global warming. In a forum hosted by Freedom Partners on Sunday evening, a key cog in the political network of the Koch Brothers, the Texas senator stated that "the data and facts don't support" that global warming is occurring.
The moderator of the forum described Cruz's stance as "full out denial". The Texas senator did not disagree with that characterisation. Cruz has previously compared those who believe in global warming to "flat-Earthers."
Cruz also criticised the new regulations, set to be unveiled by the Obama administration on Monday, to cut carbon dioxide emissions from power plants. To the Republican presidential candidate, these new rules were a sign that the Democratic party had abandoned union members for "California environmentalist billionaires and their campaign donations", in a clear reference to hedge fund mogul and environmentalist Tom Steyer…………………
Airwars project details 'credible reports' of at least 459 non-combatant deaths, including 100 children, in 52 air strikes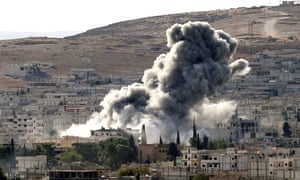 A US-led air strike in October in Kobani, Syria, during fighting between Syrian Kurds and Islamic State. Chris Woods, of Airwars, said: 'You can't have an air war of this intensity without civilians getting killed or injured.' Photograph: Gokhan Sahin/Getty Images
The air campaign against Islamic State in Iraq and Syria has killed more than 450 civilians, according to a new report, even though the US-led coalition has so far acknowledged just two non-combatant deaths.
More than 5,700 air strikes have been launched in the campaign, which nears its first anniversary this Saturday, with its impact on civilians largely unknown.
Now Airwars, a project by a team of independent journalists, is publishing details of 52 strikes with what it believes are credible reports of at least 459 non-combatant deaths, including those of more than 100 children.
It says there is a "worrying gulf between public and coalition positions" on the campaign's toll on civilians…………………. However, over six months, Airwars examined 118 air strikes and identified 52 that Woods said "warrant urgent investigation". Airwars believes there are strong indications of civilian deaths, according to multiple, reliable sources, from these attacks.
Airwars used international and local news reports in Arabic and English, social media postings including photos and videos, and the findings of monitoring groups on the ground. They cross-referenced these with coalition military reports………………….
Wilson tells the New Yorker magazine he has been deemed 'unemployable' but does not discuss Michael Brown shooting directly in wide-ranging interview

Darren Wilson told the New Yorker he had not read the government's report on Ferguson: 'I'm not going to keep living in the past … It's out of my control.' Photograph: AP
Darren Wilson has attempted to return to work as a police officer since leaving his job in Ferguson, Missouri, amid the furore over his fatal shooting of an unarmed black 18-year-old, it emerged on Monday.
Wilson said he applied for several police positions elsewhere but was turned down due to concerns that he was a liability. "It's too hot an issue, so it makes me unemployable," he told the New Yorker, during interviews for a profile published as the anniversary of Michael Brown's death approaches.
The 29-year-old said he had resigned from the Ferguson police department days after a grand jury in St Louis declined to prosecute him for killing Brown, in a sharply contested incident that led to months of unrest in the city and protests around the US………………….
Away from the xenophobic hysteria aimed at desperate immigrants are people taking steps to help newcomers and promote the good things they bring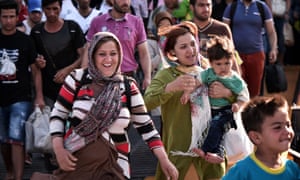 Migrants at the port of Piraeus near Athens disembark from a ferry from the Greek island of Lesbos. Photograph: Louisa Gouliamaki/AFP/Getty Images
J

udging from the headlines, it sometimes seems no one in Europe wants to help refugees. Record numbers are arriving in Italy and Greece this year, and yet other European governments have agreed to share less than a fifth of them. Hungary is building a wall to keep them out. For the same reason, France has sealed its border with Italy. In Greece, for much of this year there were doubts over the legality of giving a refugee a lift.
But on a local level, there are thousands of people across the continent who are braving the vitriol of their peers, and filling the void left by the politicians. Many Europeans back their governments' stance but their xenophobia masks another phenomenon – that of a huge drive by ordinary citizens to welcome refugees, rather than reject them. From the Hungarian volunteers providing round-the-clock support to Syrian and Afghani newcomers, to the Spanish priests assisting migrants with paperwork, here are seven movements from across Europe that are fighting for refugees' rights……………………
As Japan prepares to mark the 70th anniversary of the world's first nuclear attack, survivors ponder how to continue warning of the horrors of nuclear war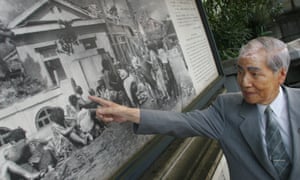 Sunao Tsuboi on Miyuki Bridge, where he was photographed three hours after the bombing of Hiroshima. Photograph: Alamy
It is not as if Sunao Tsuboi needs another reminder of his violent encounter, as a 20-year-old university student, with a "living hell on earth". The facial scars he has carried for seven decades are proof enough. But, as if to remind himself of the day he became a witness to the horrors of nuclear warfare, he removes a a black-and-white photograph and points to the shaved head of a young man looking away from the lens.
"That's me," he says. "We were hoping we would find some sort of medical help, but there was no treatment available, and no food or water. I thought I had reached the end."
The location is Miyuki Bridge, Hiroshima, three hours after the Enola Gay, a US B-29 bomber, dropped a 15-kiloton nuclear bomb on the city on the morning of 6 August 1945. Between 60,000 and 80,000 people were killed instantly; in the months that followed the death toll rose to 140,000.
In the photo, one of only a handful of surviving images taken in Hiroshima that day, Tsuboi is sitting on the road with several other people, their gaze directed at the gutted buildings around them. To one side, police officers douse schoolchildren with cooking oil to help soothe the pain of their burns…………….
A humpback whale and her newborn calf scooped the first prize in National Geographic's annual photography competition. More than 17,000 entries were submitted, whittled down to three winners and seven recognised on merit
Two boys trying to catch a duck at the stream of the waterfall in Nong Khai province, Thailand
Photograph: Sarah Wouters
Amid diminishing funds and massive displacement, and with little sign of the international community heeding calls from exiled Yazidis to make their homeland secure, is Iraq becoming a forgotten humanitarian crisis?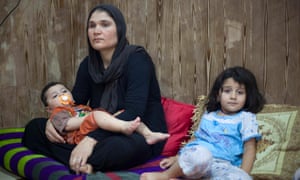 Khatwn Mirza, with her son and one of her daughters, in Sulaymaniyah. Her husband was killed when he went to find water after the family had fled to Mount Sinjar. Photograph: Rawsht Twana/Christian Aid
K

hatwn Mirza was seven months pregnant when Islamic State militants stormed Sinjar.
In the early hours of 3 August 2014, facing little resistance from the Kurdish forces, Isis began a killing spree that would last for days and result in the death of hundreds of people, and the abduction of scores more.
At 8am that day, Mirza and her husband, who are Yazidis, gathered together a few belongings from their home in the south of the ancient city and, with their two young daughters, fled.
The family walked for six days up Mount Sinjar, hoping to to find some protection from the carnage below.
"I was crying continuously and I was thinking that we won't make it and all of us would die here," Mirza, 30, says through a translator.
With temperatures almost topping 50C, no shade and very little food and water, Mirza's daughters became dehydrated.
"My husband was very sad when he looked at the children with no food or water. So he decided to go to find some water," says Mirza, cuddling the baby boy she gave birth to two months after the siege. But her husband did not come back. His body was later found in a valley. "We waited 15 days for him to come back but after seeing no sign from him we came down the mountain."
Swfiyan Seido and his wife Nasrin stayed on the mountain with their three children for seven days.
"My family, sister and nephew, we all got in the car. We took with us some small things, blankets and stuff we could put in the car and we drove towards the mountain. It was really hot and there were thousands of families rushing towards the top of the mountain. There was no water or shade and very limited food," says Seido, who was training to be a lawyer.

Other News & Analysis
Opinion
For a more just and equitable future all First Nation people must refuse modern treaties that affirm Canadian rights above our own

The treaty the government is pushing would relieve the federal government of its legal responsibility to people still suffering from generations of colonization, violence and poverty. Photograph: Mark Klotz/Flickr

T

reaties often dictate relationships between indigenous peoples of North America and the governments that control their ancestral lands. In the US, Congress maintained an official policy of negotiating treaties with Indian nations until 1871, and kept up a not-so-official policy of breaking them long after. In Canada, treaty-making continued into the 20th century. In the province of British Columbia (BC), however, there are almost no treaties between First Nations and Canada, because the provincial government believed primitive natives could not have any claim to the land. Today, this means that First Nations hold unextinguished legal claims to a landmass larger than Texas.

But the Canadian government wants that to change. There are 64 First Nations in the midst of a treaty process aimed at extinguishing all present and future Native claims to land. I'm a member of the Tsq'escenemc, or People of Broken Rock, one of 17 bands of the 10,000-strong Secwepemc Nation, and one of four Northern Secwepemc bands currently negotiating our own treaty with the federal government.

The "deal" currently on the table for the Northern Secwepemc pays $37.5m (in US dollars) and returns roughly 174,000 acres of crown land in exchange for an end to all claims to almost 14m acres of traditional territories. To put this into perspective, the treaty returns just a hair over 1% of our land and pays $2.74 per acre for the rest. This is a deal sadly reminiscent of the 47 cents an acre offered to California Indians in 1963. According to a major realty company, price per acre ranges in British Columbia from $48,510 for farmland to about $777 for bare land in the North. There is no corner of British Columbia where land sells for $2.74 an acre.

Needless to say, the four Secwepemc bands must cast their ballots against this treaty at the planned October vote so that they and their descendants will survive as sovereign and self-determining nations.