22 Jun
Nearly all of these are English-edition daily newspapers. These sites have interesting editorials and essays, and many have links to other good news sources. We try to limit this list to those sites which are regularly updated, reliable, with a high percentage of "up" time.


World Politics
Great Britain
United States
President tells crowd during Iowa tour that economic adviser and commerce secretary had to give up a lot to work for him
The US president says he does not want poor people managing the economy. Trump told a rally of his supporters in Cedar Rapids, Iowa, on Wednesday, he feels a 'very rich person', such as former Goldman Sachs president Gary Cohn, was better qualified to be in charge of commerce
Donald Trump has said he doesn't want "a poor person" to hold economic roles in his administration as he used an Iowa rally to defend his decision to appoint the wealthy to his cabinet.
The US president told a crowd on Wednesday night: "Somebody said why did you appoint a rich person to be in charge of the economy? No it's true. And Wilbur's [commerce secretary Wilbur Ross] a very rich person in charge of commerce. I said: 'Because that's the kind of thinking we want.'"
The president explained that Ross and his economic adviser Gary Cohn "had to give up a lot to take these jobs" and that Cohn in particular, a former president of Goldman Sachs, "went from massive pay days to peanuts".
Trump added: "And I love all people, rich or poor, but in those particular positions I just don't want a poor person. Does that make sense?"
He made the comments as he toured the state with agriculture secretary Sonny Perdue and Ross partly to celebrate a Republican congressional victory in Georgia being seen as an early referendum on his presidency.
Trump touched down Wednesday evening in Cedar Rapids, Iowa, and headed to a local community college and then to a campaign rally where he reveled in Karen Handel's victory.
"We're 5-0 in special elections," said Trump in front of a boisterous crowd that packed a downtown arena. "The truth is, people love us … they haven't figured it out yet."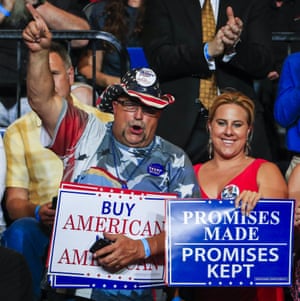 Supporters at a Donald Trump in Cedar Rapids, Iowa. Photograph: Tannen Maury/EPA
He also applauded Republican Ralph Norman, who notched a slimmer-than-expected win in a special election to fill the South Carolina congressional seat vacated by Mick Mulvaney, and mocked Handel's challenger, Jon Ossoff, saying the Democrats "spent $30m on this kid who forgot to live in the district".
Trump, no stranger to victory laps, turned his visit to a battleground state he captured in November into a celebration of his resilience despite the cloud of investigations that has enveloped his administration and sent his poll numbers tumbling.
With the appearance in Cedar Rapids, he will have held five rallies in the first five months in office.
The event underscores Trump's comfort in a campaign setting. He laughed off the occasional heckler, repeated riffs from last year and appeared far more at ease when going after Democrats in front of adoring crowds than trying to push through his own legislative agenda from the confines of the White House.
Iowa, with its large share of independent voters, could be a proving ground for whether Trump can count on the support of voters beyond his base. Unaffiliated voters, or "no party" voters as they are known in Iowa, make up 36% of the electorate, compared with 33% who registered as Republican and 31% registered as Democrat.
Self-identified independents in Iowa voted for Trump over Hillary Clinton by a margin of 13 percentage points last year, according to exit polls conducted for the Associated Press and television networks. That margin helped Trump take the state by nearly nine points after Barack Obama won it the previous two elections.
Trump held a Des Moines rally in December as part of his transition-era "thank you" tour of states he had won, but has not been back to Iowa since.
 On Sunday morning, Charleena Lylescalled the Seattle police to report a burglary. She was a black woman, pregnant, the mother of four children (including a child with Down syndrome), living in housing for formerly homeless individuals.
The police showed up, found her in a mental health crisis and allegedly armed with a knife, and killed her.
The killing has, appropriately, provoked widespread outrage across the nation – but how do we go beyond it? How do we, at once, untangle the connections between racism, classism and ableism, and police violence?
As the story of Lyles' preventable death unfurled, a group of non-white and disabled activists in Chicago reacted with grim familiarity.
They know this story. And they're worried that one of the best tools at their disposal to stop the violence is being taken away.
•
•
•
In 2005, Chris Huff tried to kill himself and was involuntarily committed to Michael Reese hospital on Chicago's South Side. "My mom took me to go get evaluated. I was going to just get an evaluation and next thing I know, I'm getting checked in," he said.
Institutionalization didn't help. Three months later, he brought a gun to high school, filled, as he described it, with paranoia and fear. He got jumped, pulled the gun and used it. He was charged as an adult for attempted murder, aggravated battery and aggravated discharge of a firearm in a public facility.
He was 15.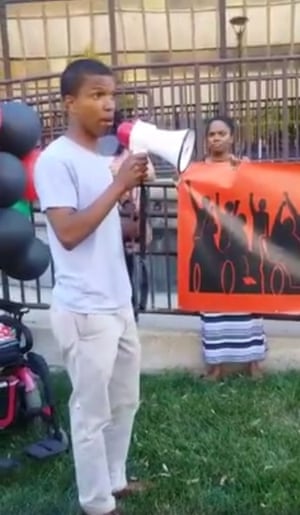 Chris Huff speaks at an event organized by disability activists. Photograph: AYLP
Now 27, Chris lives in Ogden Park in Englewood, a neighborhood on the South Side of Chicago, where I drove to meet him. As the hot afternoon waned, we spent an hour in the shade of the sycamore trees, sitting on a slanted wooden bench, talking.
He was restless. He sat. He stood up. He paced and smoked. Piece by piece, Chris revealed his theories about disability, race, poverty, policing and the vicious cycle in which Chicago's disabled black residents have found themselves.
Chris Huff is a member of Advance Youth Leadership Power (AYLP), an advocacy group organized through Access Living, one of Chicago's leading disability rights organizations. They have taken on a complicated twofold mission.
First, they are trying to teach those concerned about police conduct, including the US justice department (DoJ) taskforce, to see the disability component in the broader narrative of an abusive Chicago police department – especially as a third to half of people killed by police have a disability. Second, and perhaps even more critically, these activists are hoping to help their own communities perceive the links between disability and racial and economic justice.
In 2015, the succession of the death by police shooting of LaQuan McDonald, followed quickly by other high-profile cases (Philip Coleman, Quintonio Legrier and Bettie Jones), sparked a wave of action in Chicago. The three men had a disability, and Jones was killed when the police came for Quintonio.
The political fallout eventually led to the resignation of the police chief, and the DoJ later came to town to investigate police procedure, holding open forums where people could discuss their experiences.
That's where I first met Chris, standing in front of the crowd, telling his life story – teaching. Looking back on his arrest, he says: "I don't think it's a coincidence that three months after my diagnosis I was, you know, utilizing a weapon at a school."
He's lucky, he says, to have avoided serious prison time. Instead, his mother found him lawyers through a Northwestern institute, and a judge permitted him to move with his mother to Georgia and away from Chicago while awaiting trial.
In the end, he spent a few months in an Illinois facility as a juvenile, rather than a multi-decade sentence that might have followed had be been tried as an adult. When he turned 18, his record was expunged. College, down south, followed. Then the South Side called him back for graduate school and, now, his career with the Vera Institute of Justice, where he works with recently incarcerated youths.
•
•
•
No one knows how many of the victims of police violence are disabled.
We have some national data, which I pulled into a white paper for the Ruderman Foundation in 2015, but we're far too reliant on anecdotes – only because police departments and state governments have been too resistant to tracking use of force. The anecdotes remain telling, though. The major cases behind the DoJ investigation of Chicago involved disabled black men.
We have some national data, which I pulled into a white paper for the Ruderman Foundation in 2015, but we're far too reliant on anecdotes – only because police departments and state governments have been too resistant to tracking use of force. The anecdotes remain telling, though. The major cases behind the DoJ investigation of Chicago involved disabled black men.
Laquan McDonald had both PTSD and unspecified mental disabilities. Philip Coleman, who died in custody, had a mental health crisis and police arrived after parents called 911. The officers said: "We don't do hospitals, we do jails," and took him to prison. A video released in late 2015 shows a non-resisting Coleman being repeatedly tasered and dragged from his cell. He died not long after. A Chicago police officer killed Quintonio Legrier, a young black man in mental health crisis, while also shooting the neighbor who was keeping an eye on him (a black woman named Bettie Jones).
Families repatriated to Somalia from Dadaab refugee complex in Kenya say they feel abandoned and let down by the UN after officials used small cash payments to encourage them to return home, where a hunger and security crisis awaited.
Many travelled back to Somalia only to find themselves in a far worse position than they had been in the refugee camp, with no access to food, shelter or medicines. Having lost their legal refugee status by crossing the border, they were no longer entitled to any help.
Sacdiya Noor, 38, a mother of three children, said she felt betrayed by UN aid workers and the Kenyan authorities, who told her it was safe to go back to Mogadishu in 2015.
"There was no security in the city, no free services and nothing special [to help] returnees," she said. "There are explosions every day. Food is expensive; you have to pay for everything, even if you are sick."
Noor is among thousands of Somalis who have now made the long trek back to Kenya, where they felt safer. "I left my country the second time for the safety of my children. I feel betrayed because they [the UN High Commissioner for Refugees and the Kenyan authorities] told me it is safe to return. I tried my best but it was too much for me to bear as a single mother with no one to stand with me. I am stuck here with no rights. It is like they are saying, 'You either die of gunshot in Somalia or come back to starve in Dadaab'," she said.
The plight of repatriated Somalis who fled for the second time emerged as the UK announced a £75m, three-year programme, aimed at tackling the central Mediterranean transit route to Europe, to enable voluntary returns and repatriation and to assist governments in Africa to support asylum seekers.
Since the Kenyan government announced it would close the world's largest refugee camp and stepped up its repatriation programme to Somalia in 2016, almost 60,000 people, roughly a quarter of the camp's population, have left. The Kenyan government is no longer registering new arrivals from Somalia or processing asylum claims.
Dadaab camp has been a long-running sore between Kenya, Somalia and the UN, with the Kenyans claiming it represents a security threat. The Nairobi government has been accused of ramping up rhetoric on closure when it has been politically expedient, and currently it is appealing a decision by Kenyan high court judges that shutting down the camp is unlawful.
Noor said her situation has become unbearable since she returned to Dadaab 10 months ago, explaining that her lack of official refugee status means she has to rely on the generosity of others in sharing meagre rations with her and her children.
She is far from alone. Other asylum seekers and refugees who spoke to the Guardian from inside Dadaab, some of whom had been displaced twice, told similar stories. They talked of the danger, persecution and hunger they saw in Somalia.
The severe drought, which has brought Somalia to the brink of famine, comes alongside the UN's own warnings that the country is in the grip of a cholera and measles outbreak. After the failure of this year's rains, the number of Somali people forced to leave their villages and land has reached more than 1.7 million.
Last September, a Human Rights Watch report said refugees in Dadaab were effectively being forced to return to Somalia in a major breach of international law, since the 1951 refugee convention forbids the return or "refoulement" of refugees to countries where they may be at risk. HRW criticised the UNHCR for not giving refugees accurate information about the security situation.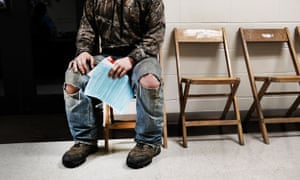 'As opioids spread like a social contagion throughout the remaining community, a family member or friend who does not take painkillers can feel like an outcast.' Photograph: Spencer Platt/Getty Images
Y

oung Americans are dying from despair. After the Great Recession, people ages 25 to 44 started to overdose on opioids at an alarming pace. Overall death rates for this age group rose an astounding 8% between 2010 and 2015.
Younger people in Central Appalachia are not surprised by these statistics. Our friends and family members have been dying from these drugs for the past two decades. The region was the epicenter of the opioid epidemic that is now ravaging the entire country.
In the beginning, doctors needed a way to treat coal miners here for their debilitating pain so that the miners could go back to work underground. The synthetic opiate OxyContin was new and heavily marketed as a solution. Soon afterwards OxyContin started to be used for other chronic pain conditions like arthritis, migraines and injuries from automobile accidents.
Stacked onto medical pain are the economic and social problems that people in the region face, primarily underemployment. Doctors prescribed opioids and Appalachians in poverty found relief. And in the exam rooms doctors told their patients that a drug potent enough to relieve cancer pain did not create dependency. In reception areas of rural clinics across Appalachia a television played the video I Got My Life Back promoting OxyContin.
Many teenagers in the region in the late 90s had a family member or a neighbor with a bottle of OxyContin. Not understanding how addictive it was, students in my high school bought or stole pills and started to pop them in between classes at school and at parties. In 1999 my "holler" saw its first overdose from the drug. Josie was a cheerleader with natural pale blonde hair who had picked out her wedding dress that day for fun with her cousin. That night her life was over.
A significant number of young people were already dependent on opioids by the time the overdoses began. Still others started to illegally take the pills despite the risks. Many switched to abusing heroin once officials cracked down on painkiller prescriptions 10 years later.
A nurse at the local hospital told me that heroin is so powerful that patients "wake up resentful that the hospital staff revived them from an overdose." "They don't want to die", she said, but "to stay blanked out of this world."
Many young people in rural Appalachia struggle with a profound loss of purpose, especially if they do not go to college. They want to live in rural Appalachia or cannot afford to leave but face very few job prospects. The girl with the highest SAT score in my graduating class works at a Wendy's in town.
Her purpose is to support her extended family with her meager wages. But tight-knit families and towns have broken up as many rural Appalachians do move away for work. Life loses deeper meaning for younger people who stay behind without their moms or nieces or lifetime playmates. As opioids spread like a social contagion throughout the remaining community, a family member or friend who does not take painkillers can feel like an outcast.
Loneliness and hardship compound as rural Appalachians live geographically isolated without a car or the Internet. Access to food is a persistent problem. Marriages fail. Young adults become depressed but don't know to name it as such. My town does not have a mental health clinic. Faced with hopelessness and flooded with pills, people self-medicate.
Countless patients prescribed OxyContin did not "get their life back" either. In fact, the pills made their pain worse as their tolerance increased. The captain of a neighboring county's basketball team suffered a back injury in high school and 10 years later his pain was so severe that in a desperate moment he ate his morphine patches and overdosed.
Half of my schoolmates are dead, in jail or battling addiction. It is often repeated in the holler as a solemn warning that your school years are the best years of your life. They may also be the last years of your life for an increased number of all young Americans, not just young Appalachians, for the first time in a century.