22 May
Irish people living overseas have been tweeting news of their journeys home to vote in same-sex marriage poll
Riyadh Khalaf's alternative look at the gay marriage referendum – video
Irish citizens have been sharing photographs and stories on social media as they travel home to vote in the gay marriage referendum.
Ireland could become the first country to legalise same-sex marriage through a referendum. More than 3 million people are eligible to vote, including 60,000 expats. Those who have left the country less than 18 months ago are able to vote in the referendum, but need to show up at a polling station in person.
Before the vote on Friday, Twitter was filled with pictures of people returning home to have their say on gay marriage, with some decorating their trains accordingly:
18 vessels deployed after 105,000 gallons leak into ocean from burst pipeline
Rescuers try to save wildlife from oil around Santa Barbara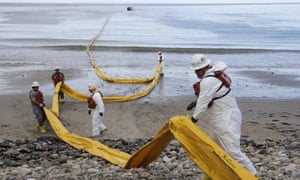 Workers prepare an oil containment boom at Refugio state beach in California. Photograph: Jae C. Hong/AP
Rory Carroll in Los Angeles, Melinda Burns in Santa Barbara and agencies
A grand jury has brought charges against six Baltimore police officers in the death of Freddie Gray from injuries suffered while in police custody, Baltimore city's state attorney, Marilyn Mosby, told a news conference on Thursday. Gray's death on 19 April set off weeks of largely peaceful protests in Baltimore, punctuated by a day of rioting and arson after his funeral on 27 April, when rioters threw rocks at police and set buildings and cars on fire.
Berenice left Honduras ready for the risks of crossing the border but like many families hope dissipated upon learning of life in captivity indefinitely in the US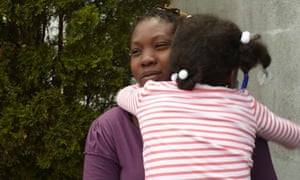 Berenice with her four-year-old daughter. The two were being held at the Dilley detention center in south Texas – a family residential facility that migrant mothers call a prison. Photograph: Tim Knox for the Guardian
It's not as though the weeks leading up to Berenice's suicide attempt in a US immigration family detention center in Texas were a bed of roses.
She'd fled her native town, Tocoa in Honduras, after her family had received death threats from a local gang.
Last November, she set out with her four-year-old daughter on the perilous 1,600-mile journey north to the US border in search of a safe future for the little girl. They snuck a free ride on the freight train known with reason as "La Bestia". As she entered Mexico she had to grease the palms of Mexican immigration officers with $400, then as she left the country into the US, crossing the Rio Grande in a flimsy inflatable raft, she had to pay again, this time $800 to the Mexican drug syndicate the Gulf cartel.
It was testament to the powerful attraction of the US that she was prepared to risk so much in the hope of giving her child a better life. It was testament to a different kind of US power that – having endured the violence in Honduras, the dangers of the journey, the threats and the bribes and the cartels – it was not until she was in the "care" of the US immigration service that she felt driven to end her own life………………………
Tzipi Hotovely gives speech to Israeli diplomats in which she says she will try to achieve global recognition for West Bank settlements

Israel's new deputy foreign minister on Thursday delivered a defiant message to the international community, saying that Israel owes no apologies for its policies in the Holy Land and citing religious texts to back her belief that it belongs to the Jewish people.
The speech by Tzipi Hotovely illustrated the influence of hardliners in Prime Minister Binyamin Netanyahu's new government, and the challenges he will face as he tries to persuade the world that he is serious about pursuing peace with the Palestinians.
Hotovely, 36, is among a generation of young hardliners in Netanyahu's Likud party who support West Bank settlement construction and oppose ceding captured land to the Palestinians. Since Netanyahu has a slim one-seat majority in parliament, these lawmakers could complicate any attempt to revive peace talks………………….
Other News & Analysis