24 Mar
 United States Wars, News and Casualties
"I regret they got hurt,' the former president and war criminal said of the veterans."
**********************
Never, ever forget that the Criminals Bush, Cheney, Rumsfeld etc. founded ISIS and today are proud of what they did and feel no regret.
'It was the right decision': Bush says he has 'no regrets' about invading Iraq and Afghanistan when asked how he feels when he sees wounded veterans
Since the Iraq and Afghanistan conflicts began, at least 8,000 US and allied soldiers have died, according to CNN.
Tens of thousands of civilians are believed to have been killed in Afghanistan since 2001, according to the United Nations.
The civilian death toll in Iraq is estimated to be somewhere between 170,000 and 190,000, according to Iraq Body Count. 
The McGlynn
**********************
The conflict across Iraq has caused an estimated 1.8 million Iraqis, half of them children, to flee from their homes across the country.

War News
Russian warplanes are taking part in air strikes against insurgents to help repel a major attack on Syrian government-held areas near the city of Hama, a Syrian military source said on Friday.
Rebel groups spearheaded by jihadist insurgents launched the attack on Tuesday and have captured at least 11 villages and towns, according to the Syrian Observatory for Human Rights, a Britain-based organization that reports on the war.
It marks the biggest attack by rebels in months. While President Bashar al-Assad still holds the military upper hand in the war, the rebel gains have shown the challenge facing the Syrian army and allied militia as they fight on numerous fronts.
"Air strikes have now started, and there is concentrated artillery firing against the armed groups and the headquarters of their leaders and supply lines, paving the way for the counter-attack," the military source told Reuters. "The Russians are, of course, participating in these raids."
Rebel groups were focusing their attack on Friday on the village of Qomhana, some 8 km (5 miles), north of Hama city, Observatory Director Rami Abdulrahman said.
Read full story »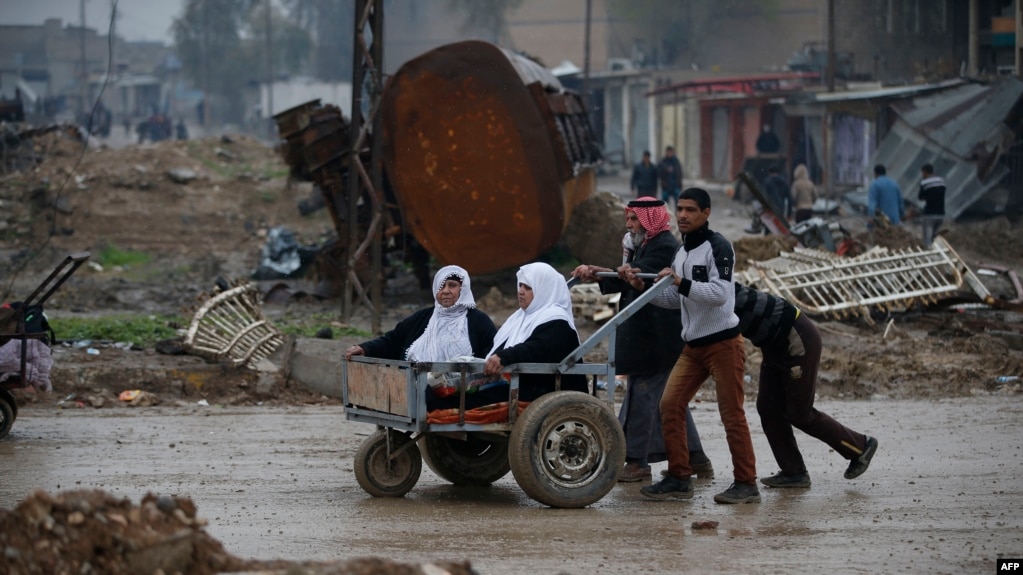 Civilians flee the city of Mosul on March 23 as Iraqi forces advance in their massive operation to retake Iraq's second city from Islamic State militants.
More than 100 people have been killed in western Mosul by a March 22 explosion in a residential section of the city, military officials and an activist group say.
Brigadier Muhammad al-Jabouri, an Iraqi commander, said on March 23 that 108 bodies had been recovered after the blast in the Mosul al-Jadida district — a district where an intense urban battle is continuing between Iraqi government forces and the Islamic State (IS) militant group.
Jabouri said the explosion was caused by booby traps that were set by IS extremists.
Mosul Eye, an independent activist organization, said IS militants forced civilians into three houses and then placed two car bombs outside while IS snipers scattered on rooftops in the area.
Mosul Eye said an air strike by an unidentified plane hit one of the cars, causing it to explode together with the explosives in the second car nearby.
Mosul Eye said 130 people were killed by the explosion, including women and children.
Displaced Iraqis flee their homes as Iraqi forces battle with Islamic State militants, in western Mosul, Iraq March 24, 2017.

REUTERS/Suhaib Salem
Iraqi forces are preparing a fresh push against Islamic State using new tactics, but operations to drive the militants out of their last stronghold in the country are on hold, military officials said on Friday.
Families streamed out of the northern Iraqi city during the lull in fighting, part of an exodus of people fleeing in their thousands each day, the United Nations says, heading for cold, crowded camps or to stay with relatives.
The U.S.-backed operation to drive Islamic State out of Mosul, now in its sixth month, has recaptured most of the city. The entire eastern side and around half of the west is under Iraqi control.
But advances have stuttered in the last two weeks as fighting enters the narrow-alleyed Old City, and the militants put up fierce resistance using car bombs, snipers and mortar fire against forces and residents.
"Today we don't have operations," Lieutenant Colonel Abdel Amir al-Mohammedawi, a spokesman for the elite Rapid Response forces said by phone.
Attacks would soon resume, and "new techniques" more suitable to fighting in the Old City would be used, he said, without elaborating.
Eastern Mosul is coming back to life. In the few weeks since Iraqi forces drove Islamic State from this side of the city, markets have opened and bulldozers have begun to clear the debris left by battle.
Stalls spilling onto the street in between collapsed buildings display fruit and vegetables, and vendors play recordings advertising SIM cards and mobile phones — use of which was punishable by death under Islamic State.
But everywhere are reminders of the pain the city has endured and the irreversible physical and psychological damage caused to Mosul, the Iraqi stronghold of the ultra-violent jihadist group for nearly three years.
Sections of road are closed off because of bomb damage, or because they lead to bridges across the Tigris river to western Mosul, where fighting still rages. There is no mainline electricity or running water, residents say, and dejected laborers sit on the roadside hoping for work or asking for money.
BAGHDAD (AP) — An influential Iraqi Shiite cleric addressed thousands of anti-government protesters who filled the streets of downtown Baghdad on Friday, threatening to boycott the country's upcoming provincial elections if the committee overseeing the vote is not overhauled.
Muqtada al-Sadr's remarks reflect persistent political power struggles in Baghdad even as Iraqi forces backed by the U.S.-led international coalition battle the Islamic State group in Mosul in a weeks-long campaign to rout the extremists from the western half of the city.
Al-Sadr has repeatedly accused the committee — along with all tiers of Iraq's government — of being riddled with corruption. He called for the rally in Baghdad just days before asking his followers to "stand in the face of … corruption and tyranny," according to a statement from his office.
Iraqis who love their country and hate corruption, regardless of ideology, support what al-Sadr called the "reform revolution."
Top Pentagon leaders are warning that the long war is going to get even longer.
Defense Secretary Jim Mattis and Joint Chiefs Chairman Gen. Joseph Dunford told Senate leaders on Wednesday that even after ISIS is defeated in Syria and Iraq, US troops will be stationed in the region for at least a few years afterward.
"I believe it's in our national interest that we keep Iraqi security forces in a position to keep our mutual enemies on their back foot," Mattis told members of the Senate Appropriations Committee on Defense. "I don't see any reason to pull out again and face the same lesson," he added, referencing the removal of all US forces from Iraq in 2011.
The United States has invested more than $333 million in Iraq since 2003 toward the clearance and safe disposal of landmines, unexploded ordnance (UXO), and securing excess conventional weapons and munitions. This assistance, directed through several Iraqi and international nongovernmental organizations, has made significant progress toward countering the Islamic State of Iraq and Syria (ISIS). This progress includes making possible the return of internally-displaced persons and refugees to areas liberated from ISIS; protecting communities who fled ISIS from potential risks; restoring access to land and infrastructure; and developing Iraqi capacity to manage weapons abatement programs independently over the long term.
The Landmine/Unexploded Ordnance Challenge
The activities of ISIS in Iraq have dramatically altered the Conventional Weapons Destruction (CWD) landscape. As civilians flee large population centers like Mosul, displaced families live in areas where they are not familiar with the local mine and UXO hazards. As families begin to return to their homes, they are confronted with hazards from the recent conflict as well as deliberate mining and booby-trapping of homes by ISIS.
Already, communities across Iraq faced danger from an estimated 10 to 15 million landmines and pieces of UXO from conflicts dating back to the 1940s. Numerous large barrier minefields and UXO remain along the Iran-Iraq border as a result of the 1980s conflict between the two nations. The war in 1990-1991 and the conflict that began in 2003 scattered significant numbers of additional UXO, particularly in the south of the country. The use of mines and improvised explosive devices (IEDs) by ISIS has compounded this problem.
Russia may be supplying Taliban insurgents in Afghanistan, the top US commander in Europe has said.
Army General Curtis Scaparrotti, who is also Nato's Supreme Allied Commander in Europe, told a senate hearing he had seen Russian influence on Afghan Taliban insurgents growing.
"I've seen the influence of Russia of late — increased influence in terms of association and perhaps even supply to the Taliban," Mr Scaparotti said.
It comes after Taliban fighters captured the strategic district of Sangin in the southern Afghan province of Helmand after security forces pulled out, officials said.
Helmand, which accounts for the bulk of Afghanistan's billion dollar opium crop, is already largely in the hands of the Taliban but the capture of Sangin, where US and British forces once suffered heavy casualties, underlines their growing strength in the south.
Almost everyone I spoke to in Afghanistan agrees that things are rapidly moving from bad to rock bottom.
Afghans, at home and abroad, are deeply pessimistic. With hefty allowances and privileges, at least some foreigners based in Kabul are much more upbeat, but 'positive thinking' is what they are paid to demonstrate.
Historically one of the greatest cultures on Earth, Afghanistan is now nearing breaking point, with the lowest Human Development Index (2015, HDI, compiled by the UNDP) of all Asian nations, and the 18th lowest in the entire world (all 17 countries below it are located in Sub-Saharan Africa). Afghanistan has also the lowest life expectancy in Asia (WHO, 2015).
While officially, the literacy rate stands at around 60%, I was told by two prominent educationalists in Kabul that in reality it is well below 50%, while it is stubbornly stuck under 20% for women and girls.
Statistics are awful, but what is behind the numbers? What has been done to this ancient and distinct civilization, once standing proudly at the crossroad of major trade routes, influencing culturally a great chunk of Asia, connecting East and West, North and South?
The Afghan security forces have arrested a mine planter from a restive district of eastern Nangarhar province. According to the local security officials, the detained militant has been identified as Zahidullah and was arrested from the vicinity of Pacher Agam district. The officials further added that Zahid was arrested as he was planting an anti-armored
Afghanistan Casualties, Exclusive of Civilians
Recent Casualties
Color

Denotes Today's Confirmation
None
PTSD Care for Veterans, Military, and Families
See Help for Veterans with PTSD to learn how to enroll for VA health care and get an assessment.
All VA Medical Centers provide PTSD care, as well as many VA clinics.
Some VA's have programs specializing in PTSD treatment. Use the VA PTSD ProgramLocator to find a PTSD program.
If you are a war Veteran, find a Vet Center to help with the transition from military to civilian life.
Call the 24/7 Veteran Combat Call Center1-877-WAR-VETS (1-877-927-8387) to talk to another combat Veteran.
Call 24/7 for counseling and many resources 1-800-342-9647.